Joey Feldman
For more information or to view available work by Joey Feldman, please contact us.
Mixed-media artist Joey Feldman works in Los Angeles, California. Feldman's works are figurative with a frenetic, cartoonish style at their core. With line art applied to its fullest extent, Feldman's initial, fast-sketched lines play a role in the final piece. Then, with paint and ink splatters, Feldman finishes each with a visceral urgency that captivates upon first glance. An only child who kept mostly to himself, Feldman first fell in love with art and illustrations through comic books and with Marvel pages he first taught himself to draw by tracing panels. Known for his constant sketching in grade school, Feldman would receive a special award at his grade school graduation entitled "Classroom Cartoonist," which was created specifically to commend his budding talents as an artist.
Feldman's first professional assignment came in 1994 when commissioned to draw a portrait of O.J. Simpson upon the verdict of O.J.'s infamous trial. Since then Feldman has provided artwork for advertising agencies, design firms, motion pictures, beverage companies, record labels and magazines. Including a not so flattering illustration of noted rapper Eminem for XXL Magazine which sparked the biggest feud in XXL history. The illustration itself earned a shout out from the artist himself on the Marshall Mathers LP.
Private collectors such as Josh Brolin (No Country For Old Men), Jere Burns (Justified, Bates Motel), Kaley Cuoco (Big Bang Theory), Steve Jones (Sex Pistols), Joe Manganiello (Magic Mike, True Blood), among many others, feature Feldman's singular work in their collections.
Gabba Solo Exhibitions:
ISO ; DIBS, October 2018
Bits & Pieces, September 2017
Layers, March 2016
Diving
mixed media on panel
18 x 24 x 1 in.
Private Collection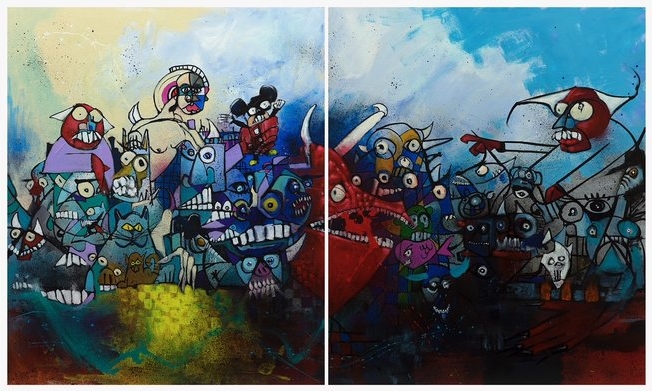 The End of the Beginning
mixed media on panel
36 x 30 x 1.75 in. (each panel)
private collection
Code Red
mixed media on paper
32.5 x 23 in.
Bowie
mixed media on paper
30 x22 in.
private collection